Jaya's high waist makes it a cute skirt with a retro flair, available from size EU34 to size EU52. The wide waistband shapes and slightly slims the waist, but is still comfortable.
This V-shape waistband was originally inspired by ballerina dresses…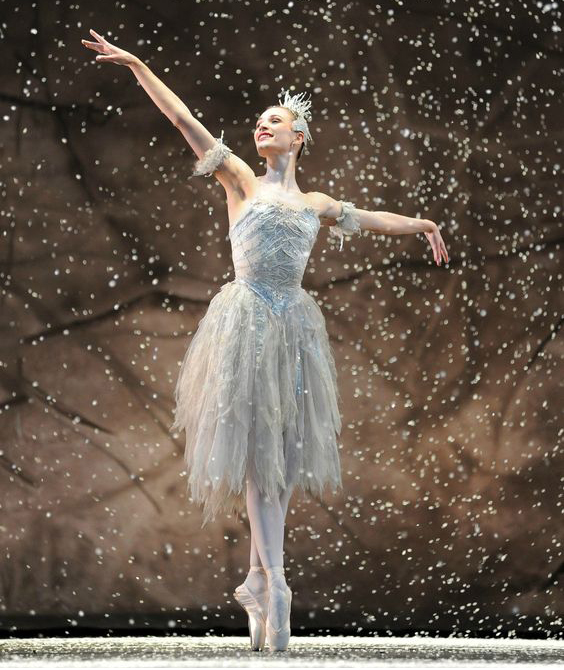 I thought about the other variations as I was progressing in the creation process of Jaya
Even if Jaya only has 5 pieces, this pattern is full of style variations and lengths. There must be at least one variation that will make your beat a little faster !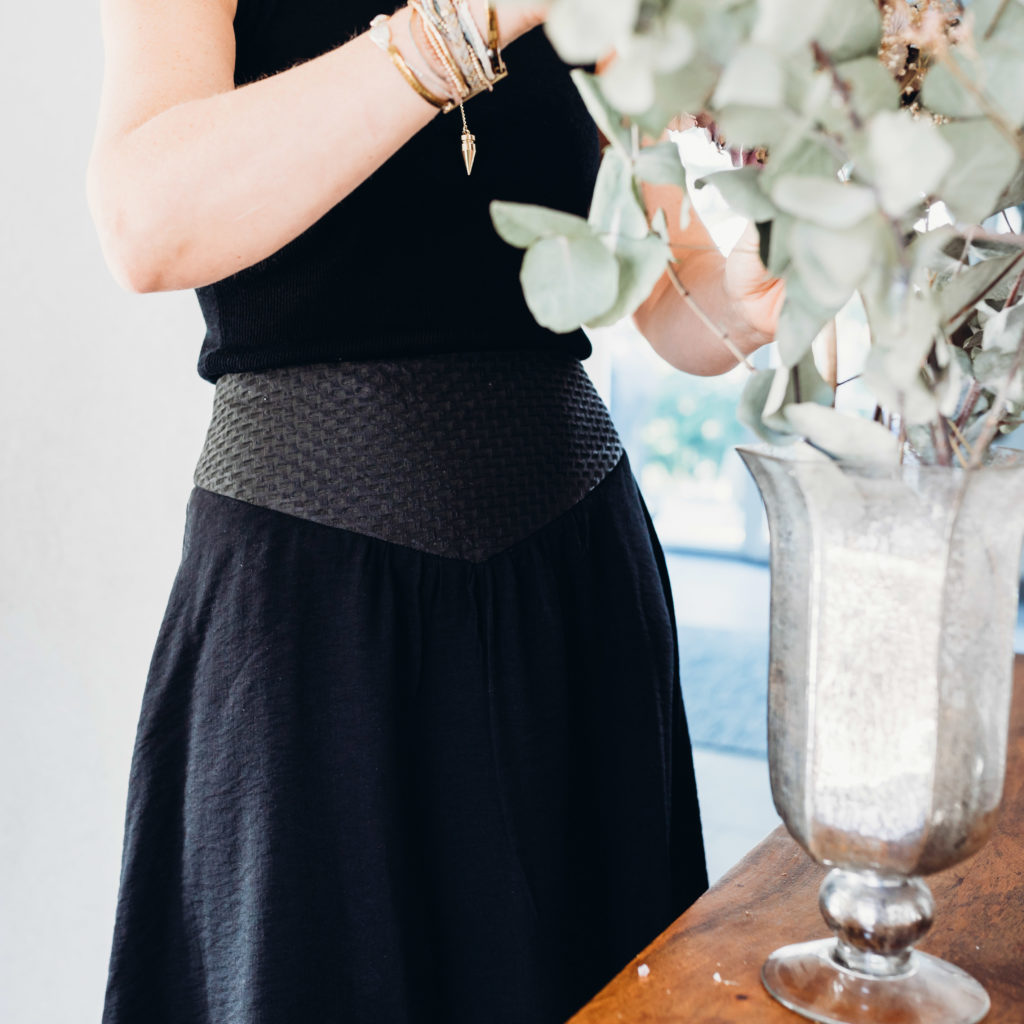 Variations on the skirt length
4 lengths are available:
Mini length or 50cm
Midi length or 65 cm
Mid-calf length or 80 cm
Maxi length: this length depends on your height entirely and, thus, will be individual. The pattern has instructions on how to get the maxi length suitable for your personal height.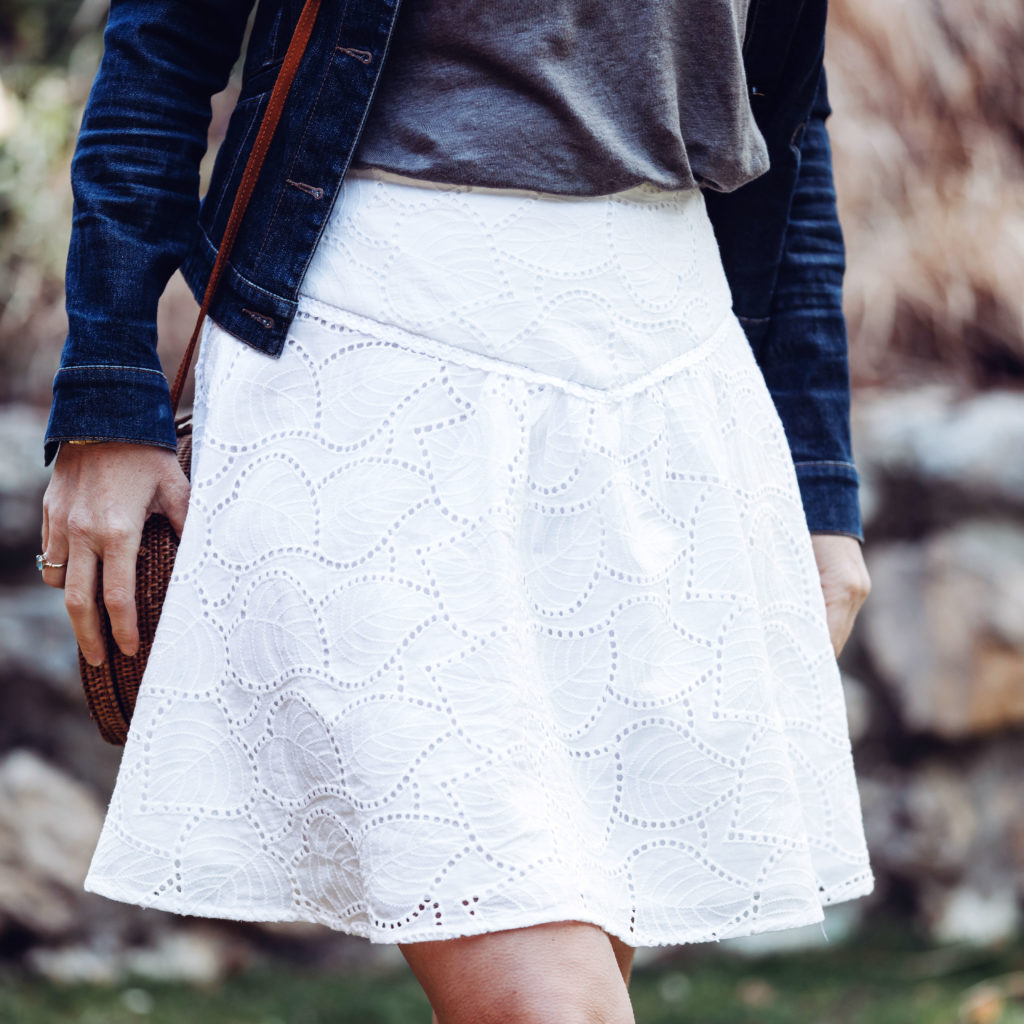 Jaya –  50 cm – Eyelet pretty mercerie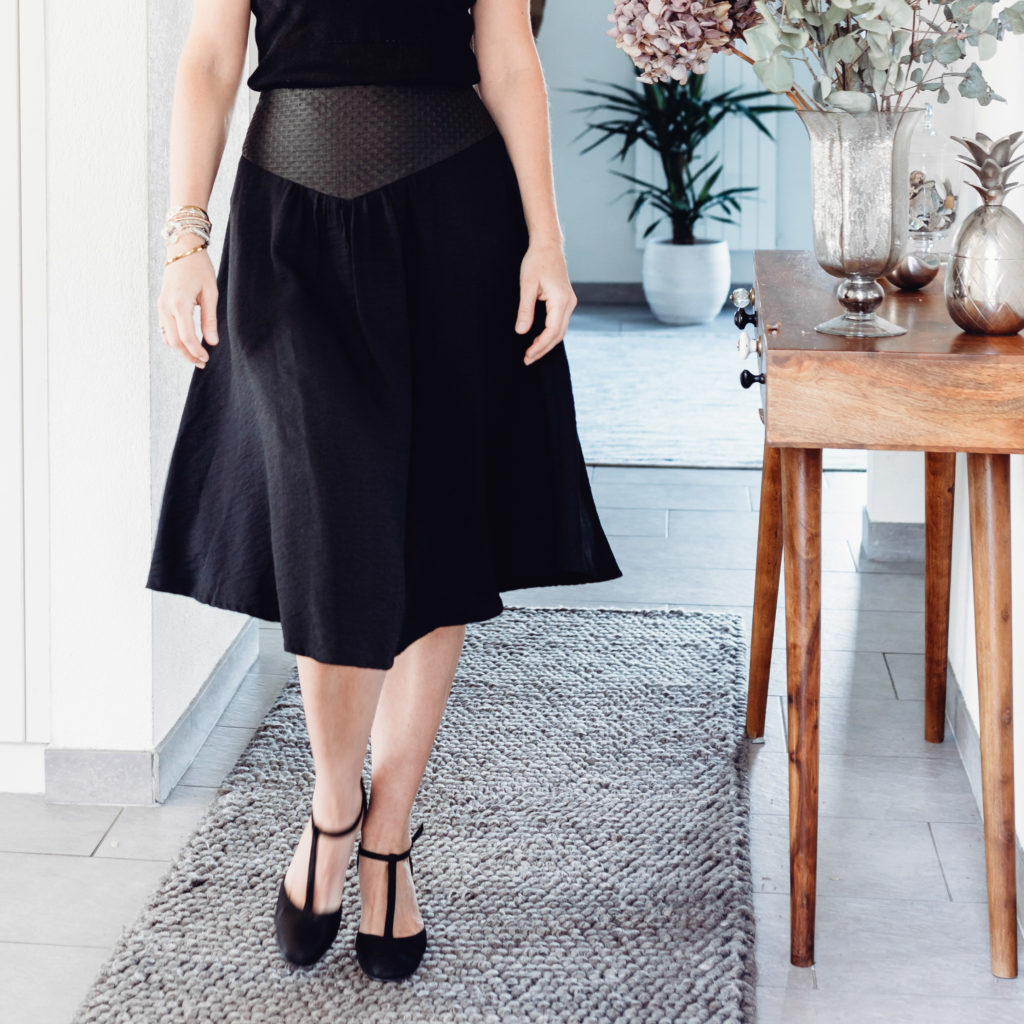 Jaya –  65 cm – Crepe France duval stalla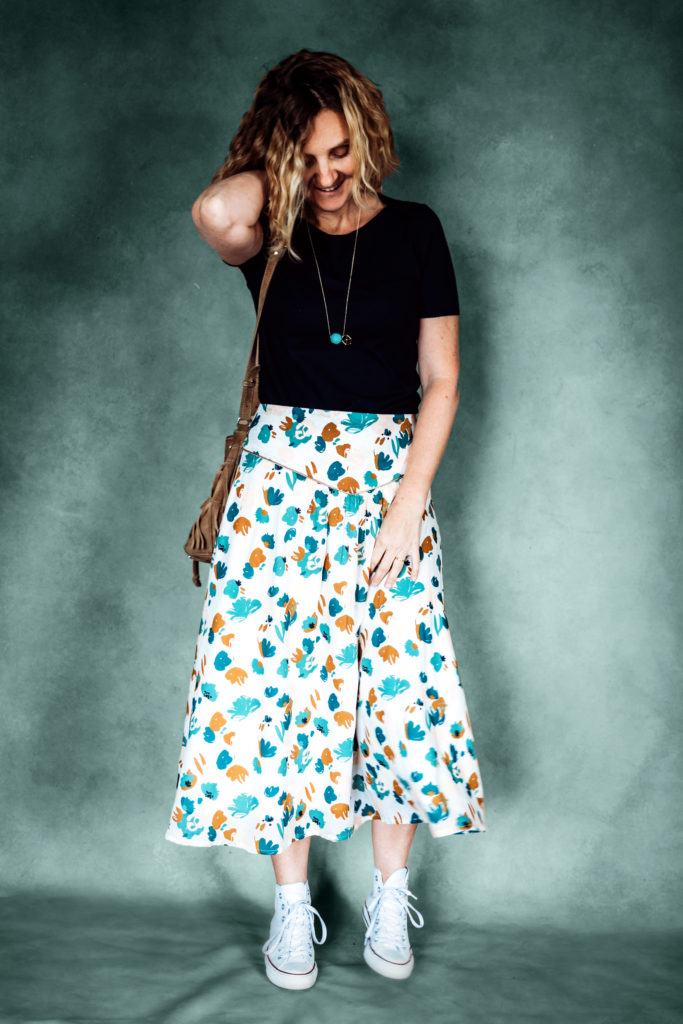 Jaya –  80 cm – Viscose Atelier Brunette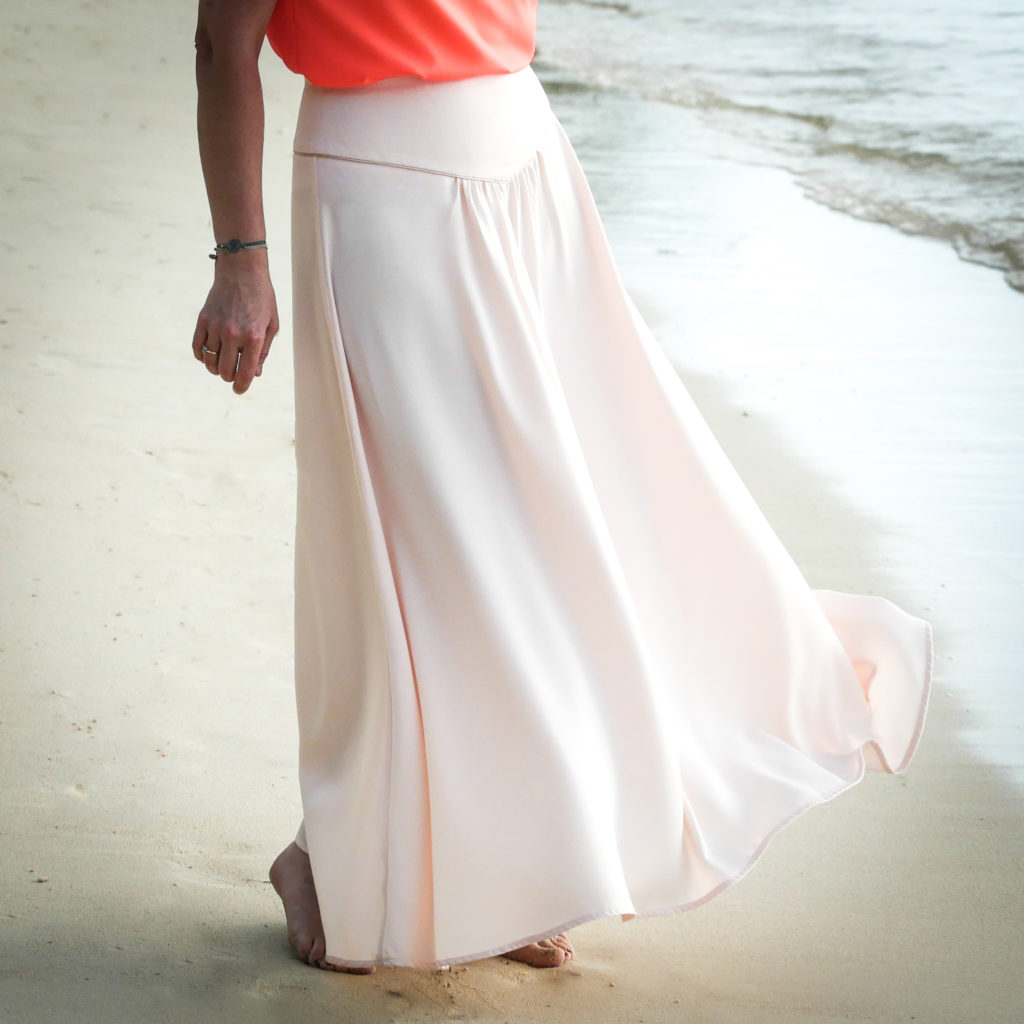 Jaya –  maxi – Viscose

Variations on the waistband shape
The center front of the base waistband is shaped as a V. However, thanks to the templates available in this pattern, you can change that V-shape into a curve, to get another waistband shape.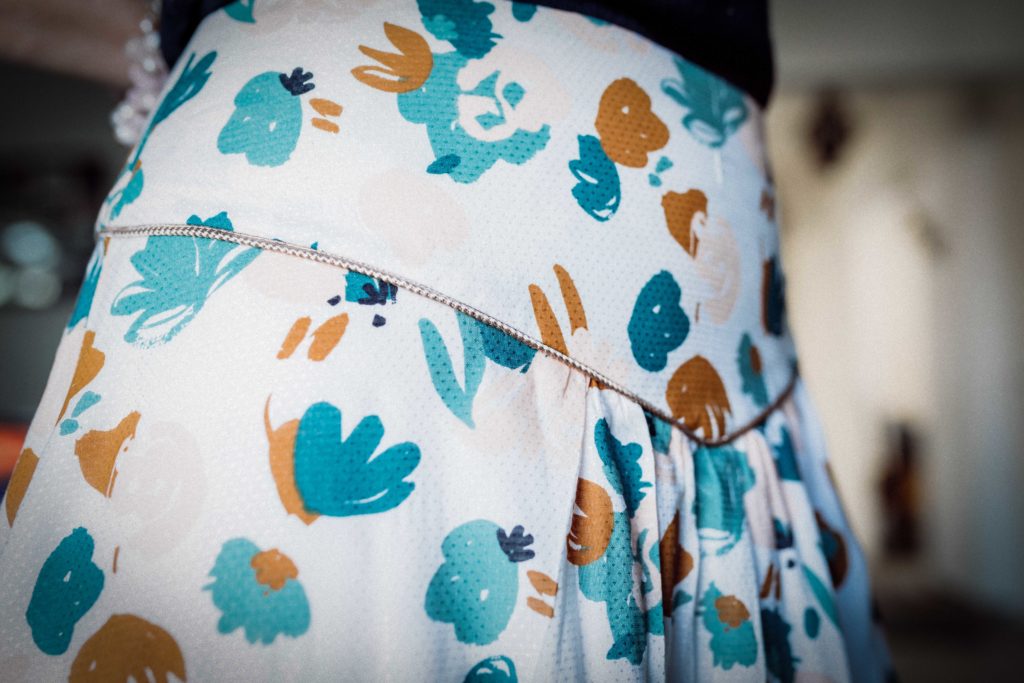 Jaya – V-shape waistband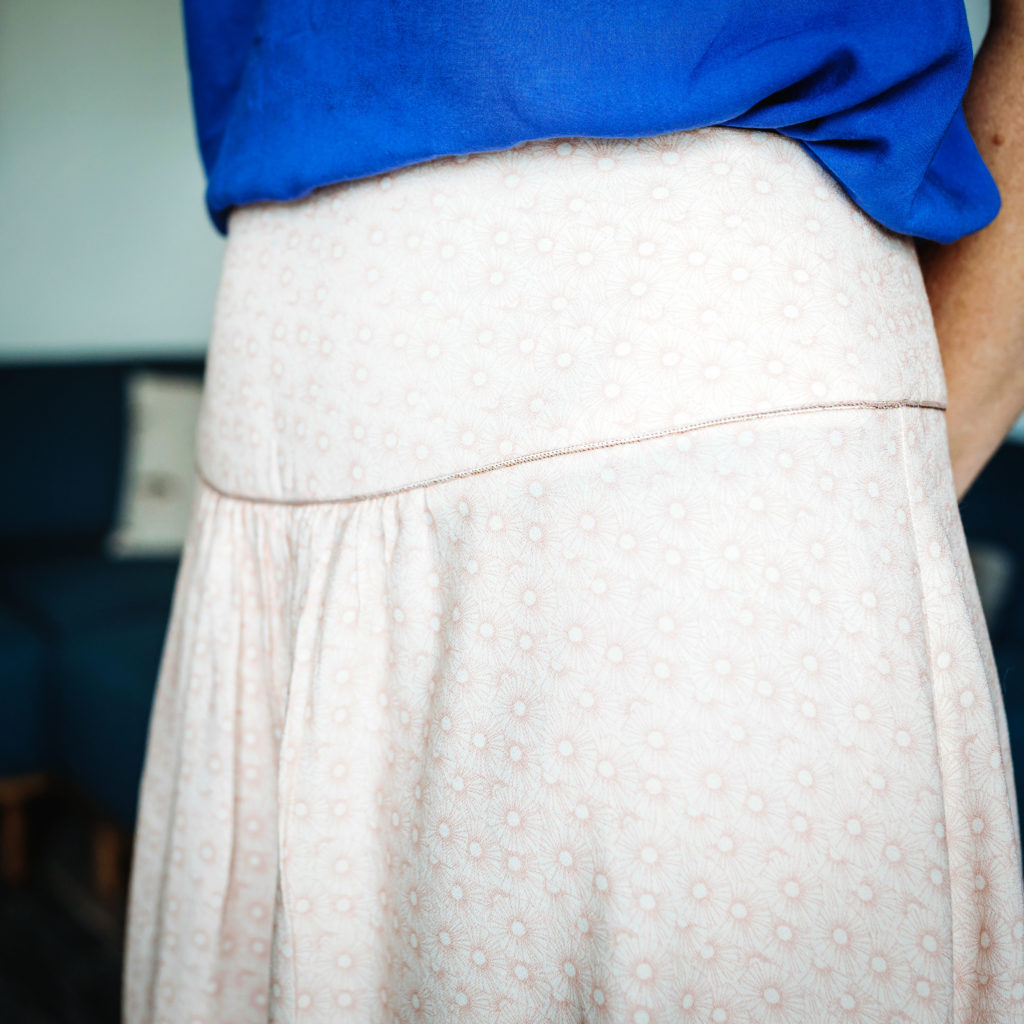 Jaya – Curved waistband (crepe Little Fabrics)

If the width of the waistband is a bit too much for you, or if your height is under 160cm, fear not! Instructions on how to alter the width are provided and it's an easy step.
Variations on the skirt hemline
Three types of skirt hemline are available:
Classical hem (same length everywhere);
High-low hem (the skirt is longer at the center back)
Front and back asymmetrical hem (center front and center back hems are longer than the hem at the sides)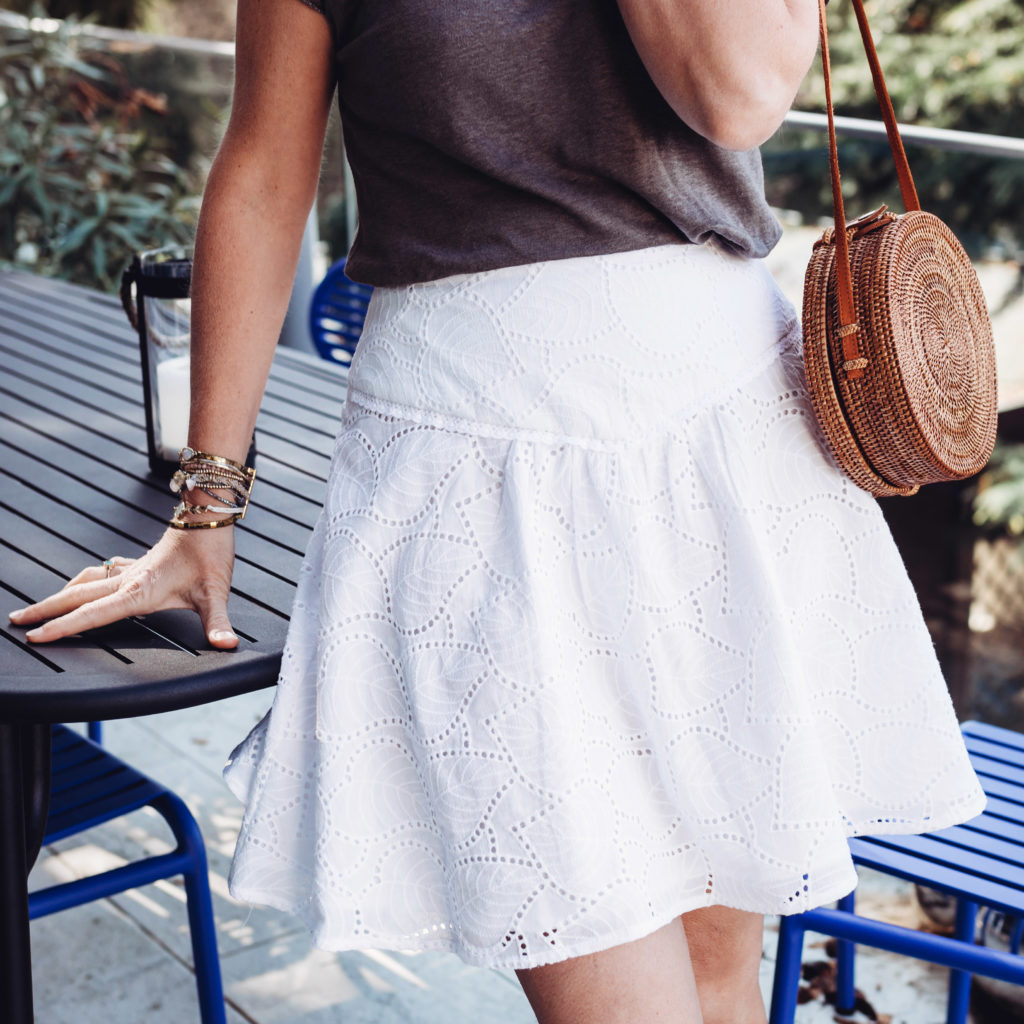 Jaya – Classical
Jaya – Asymetrical

Pockets
You can add pockets to your skirt. They will be unnoticeable since they are sewn on the sides, directly onto the seam allowance.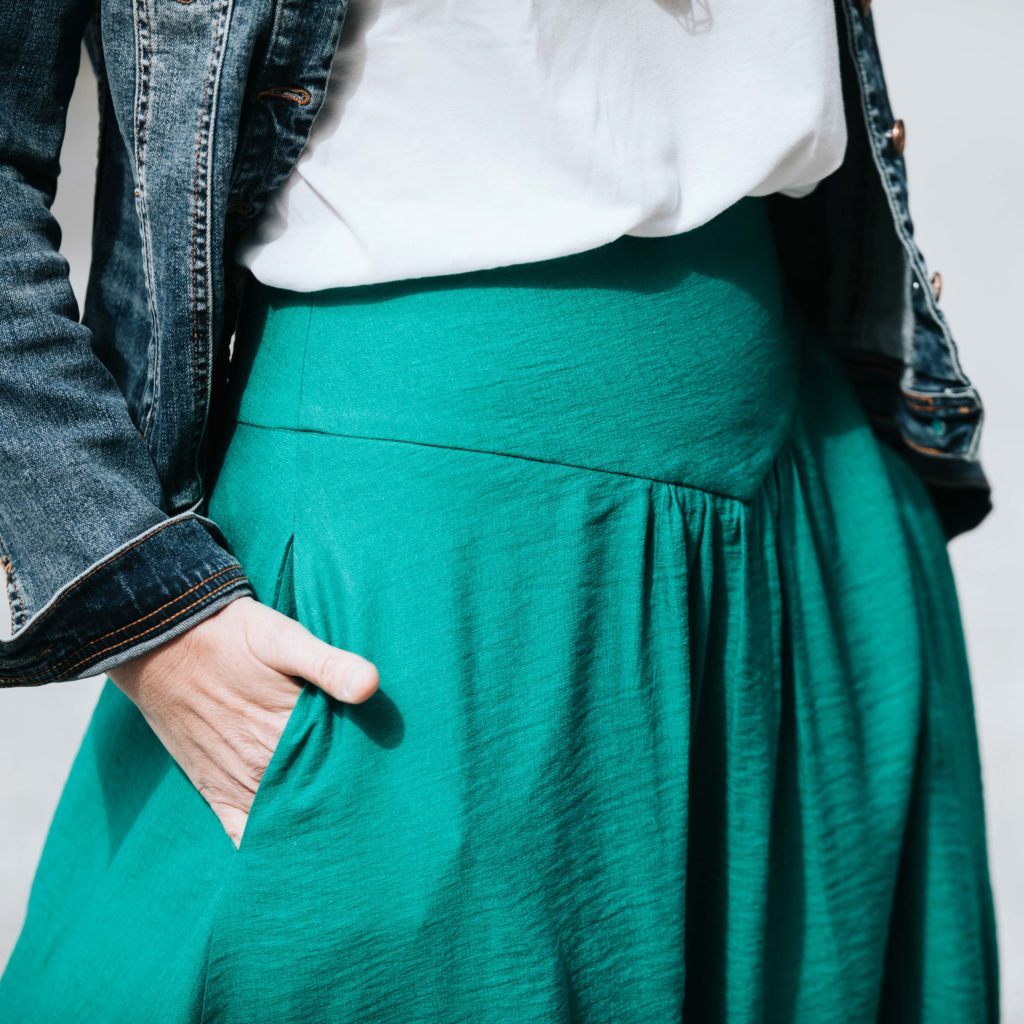 Jaya – Pocket (crepe Cousette)

Fabric suggestions
Any lightweight soft fabric for skirts, with a nice drape, will be perfect for that garment. You may use viscose, crepe, linen, Tencel, batiste, flannel, etc.
However, heavier fabrics such as double gauze, eyelet, cord, lightweight gabardine.
In any case, being able to sew Jaya in a multitude of fabrics lets you wear it throughout the year.
Bonus
Instructions for lining the skirt are included in the pattern so choosing a see-through fabric is totally acceptable.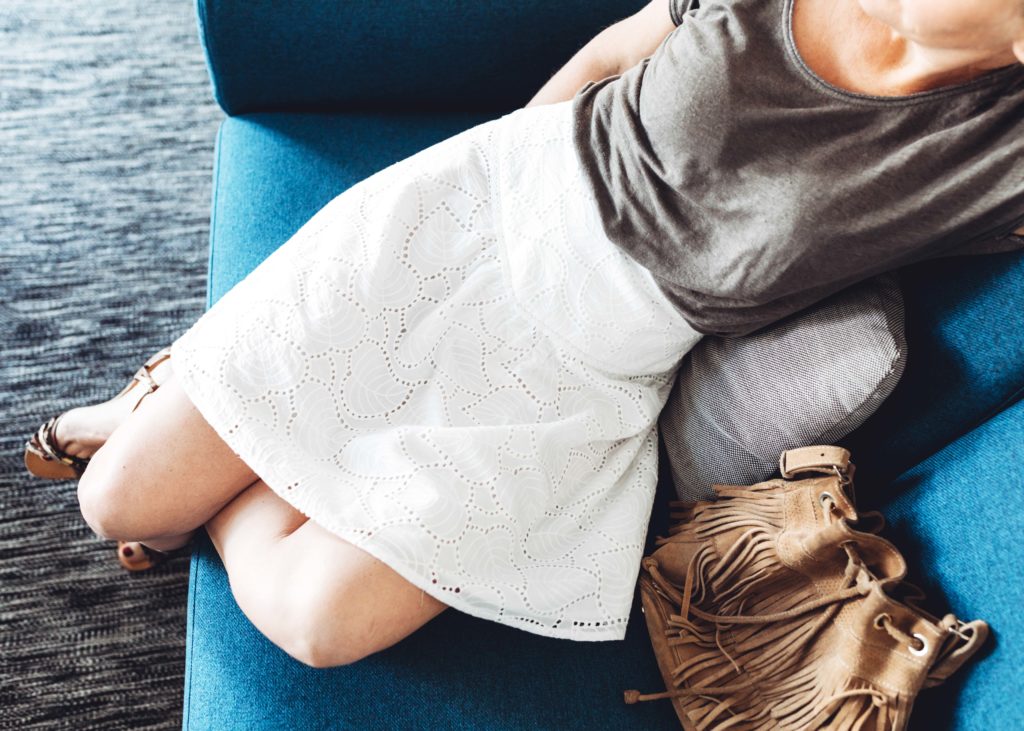 Jaya – Lined skirt

Assembling
As in any p&m patterns, the instructions for sewing the Jaya skirt are detailed and each step is fully illustrated.
The only technical difficulty is the back zipper. That explains why this pattern is rated between Beginner and Intermediate. However, each step having been designed to be the simplest, you will just have to follow the instructions to have your sewing goes smoothly (as it's always the case with a p&m pattern!)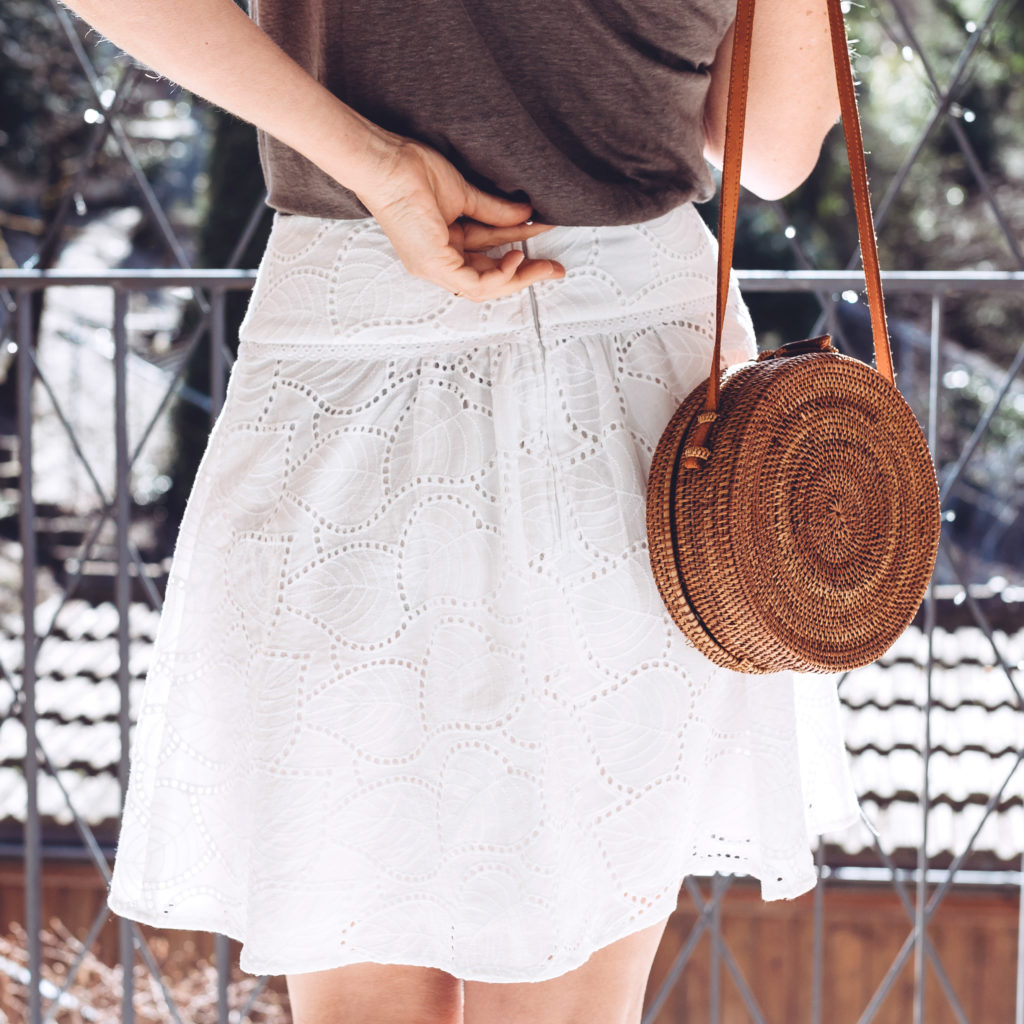 Since the pattern is fitted at the waist, it's highly important to follow the instructions below to get a well-fitted skirt:
Measure precisely your waistband with a measuring tape,
Cut the waistband's pattern pieces as close to the edges as possible
Sew accurate seam allowances at each step when sewing pieces together.
I'm really eager to see all of your wonderful makes!!!
Please feel free to share your Jaya skirts on social networks with the following hashtags: #pmpatterns  #pmjaya
You can also share them on our private Facebook group « je couds p&m », after having required approval, if you're not a member already!!
Ah, I forgot to add that Suùn complements Jaya very well!!! Just saying!!!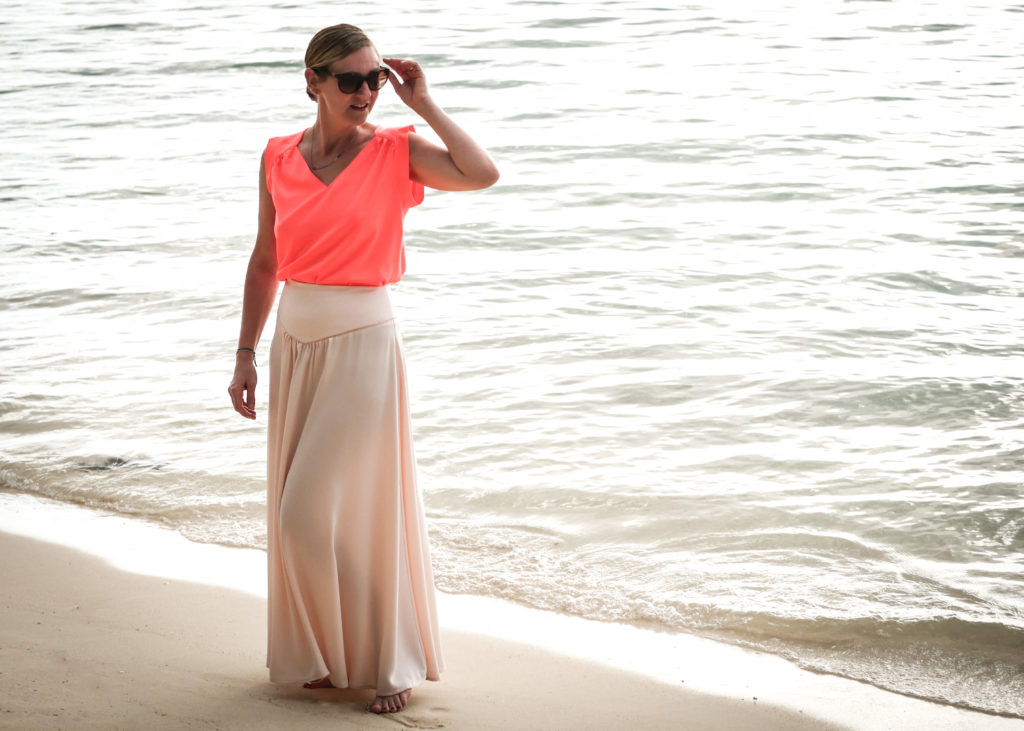 See you soon!