We are living an unprecedented health crisis. It's amid these circumstances that I come and show you my latest pattern.
Some may find it surreal but I do want to keep some kind of normality in my life.
It's vital to me that we can take our minds off this predicament while we are all quarantined. To keep ourselves away from the doom and gloom such a situation imposes on us, So what's better than some kind of levity, beauty, and sharing our common passion?!
So what is Yzé ? First, it's a cute blouse or dress with a flared shape…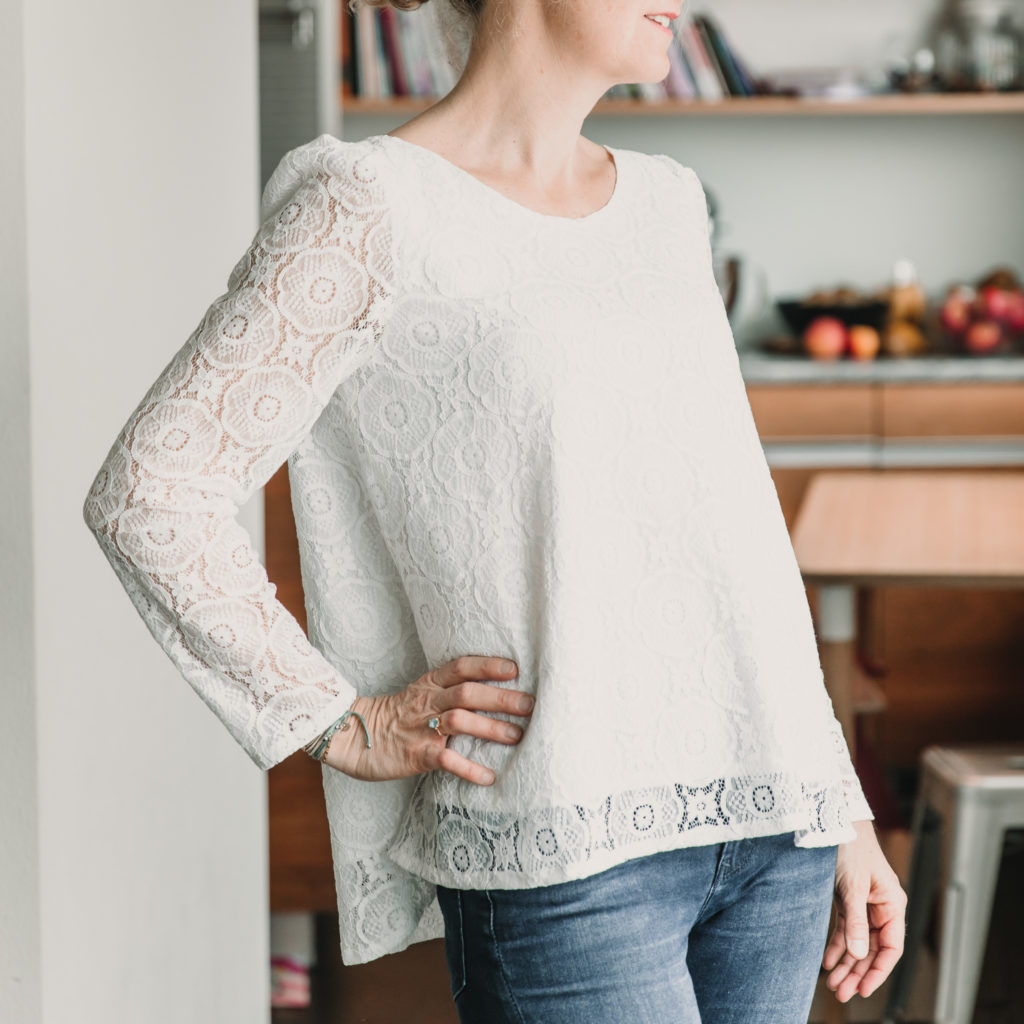 You can wear it as is……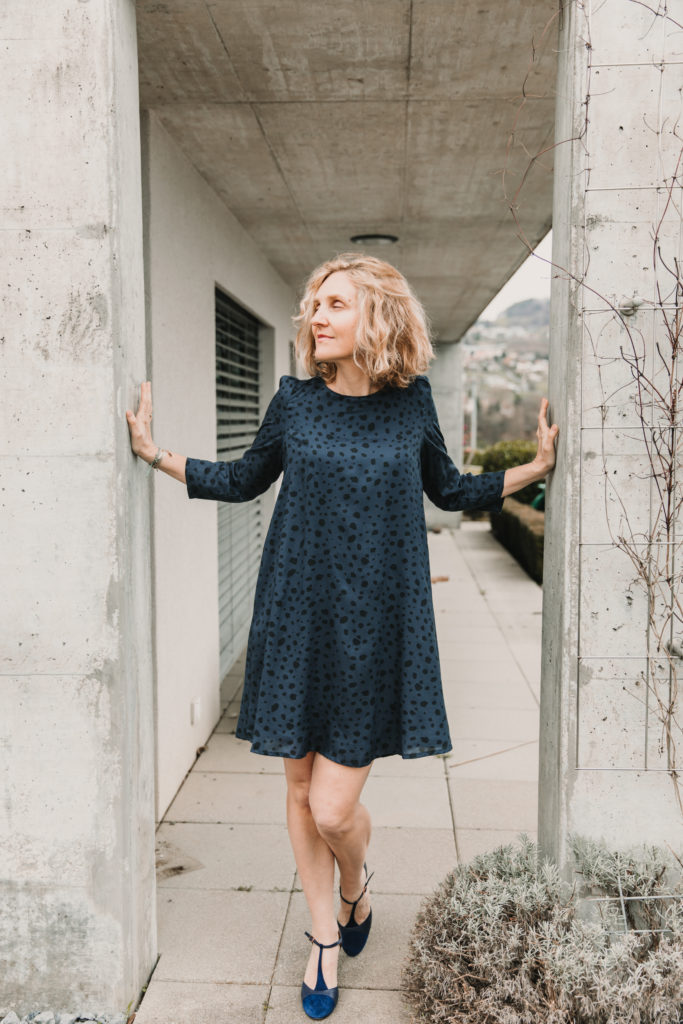 Or with a belt…
The round neckline underlines the neck delicately…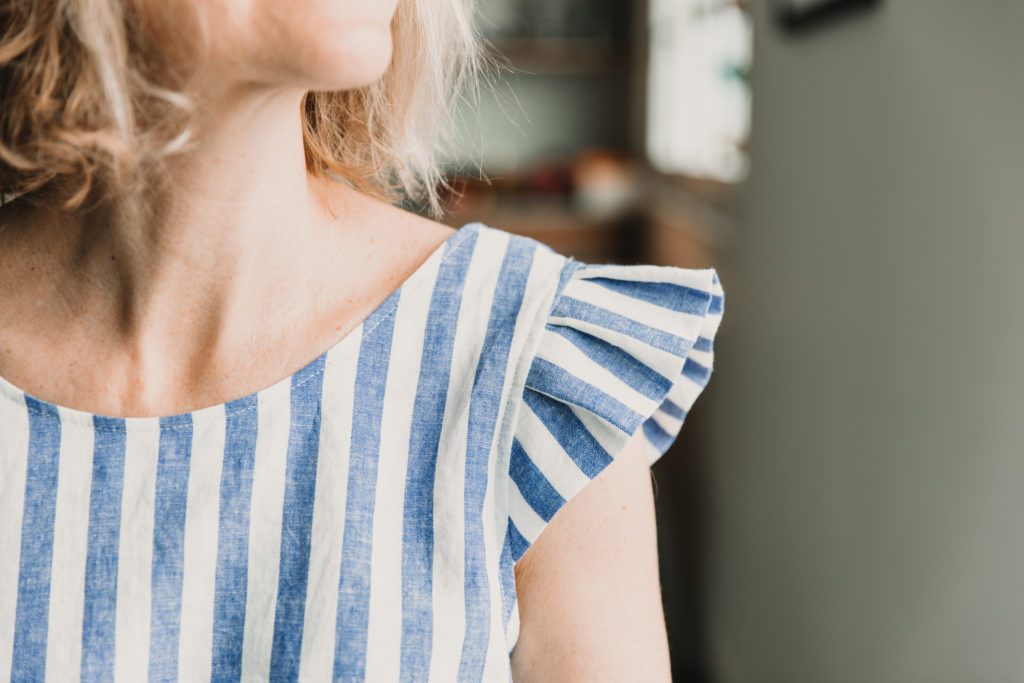 The back offers 3 types of necklines :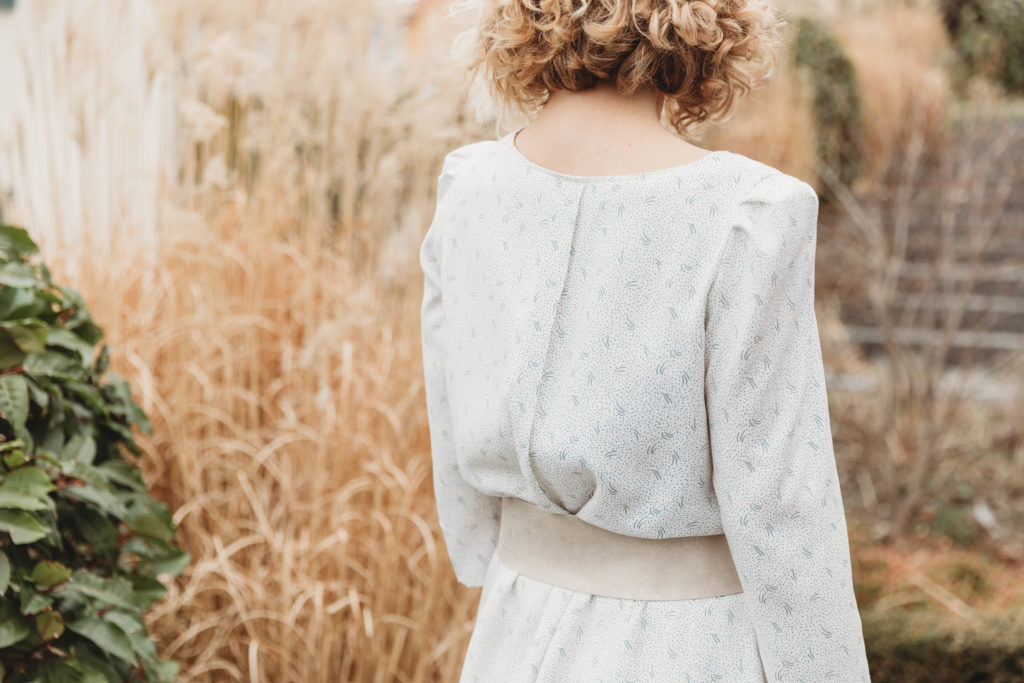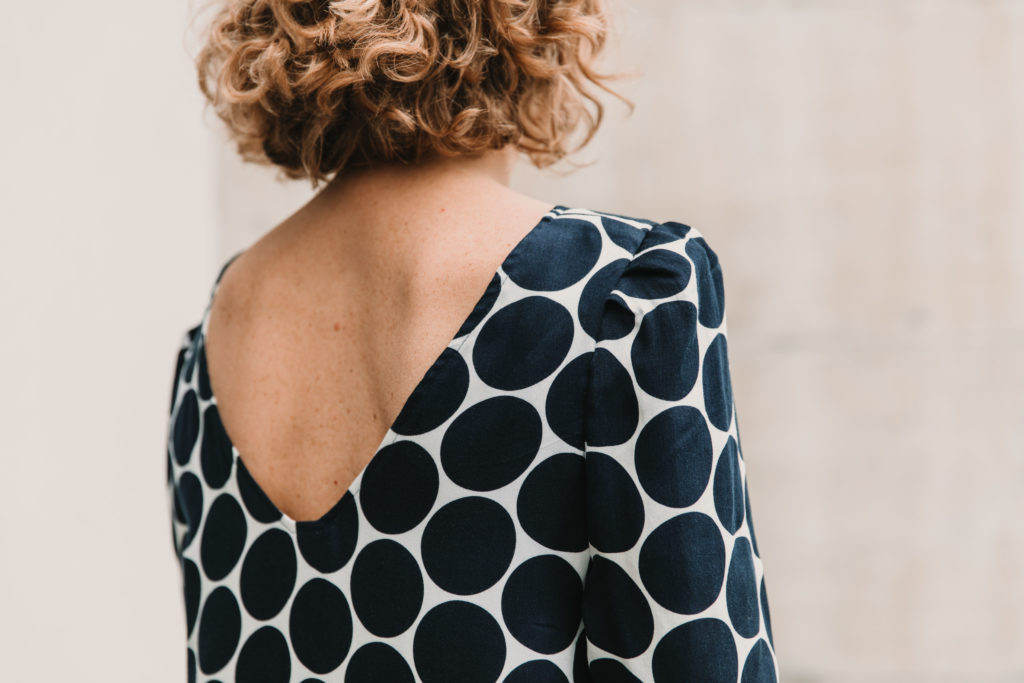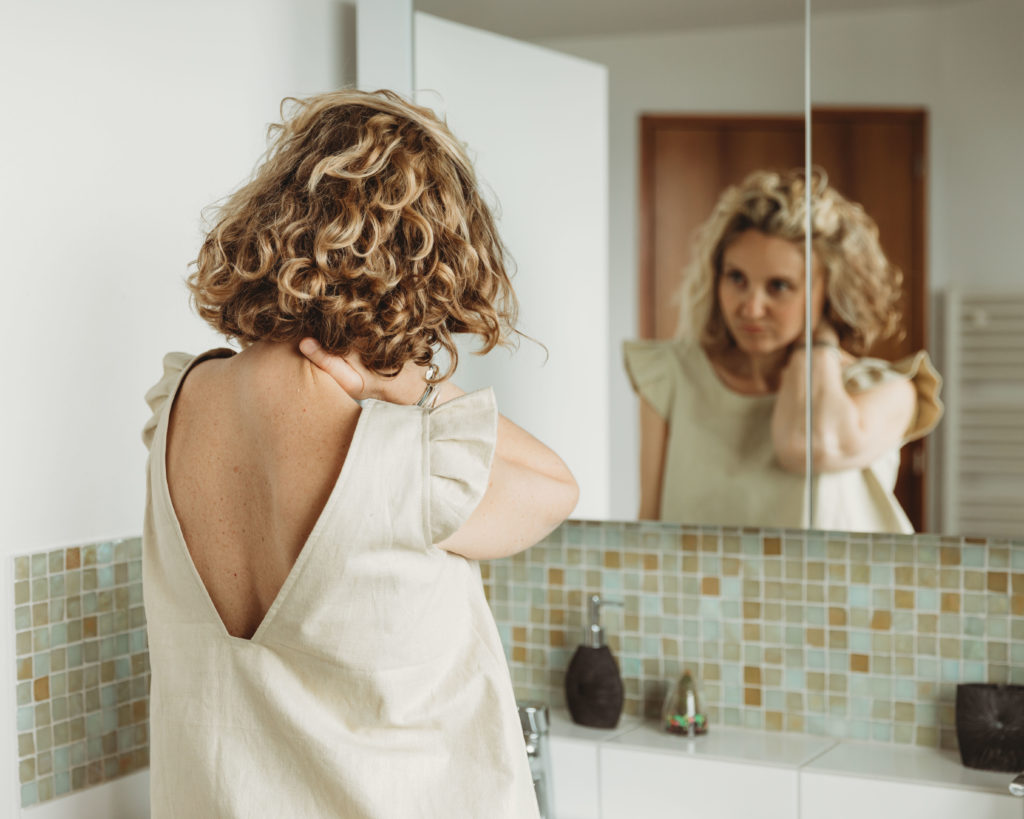 You can choose to add some lace or any other type of  trimming around the neckline if you wish to…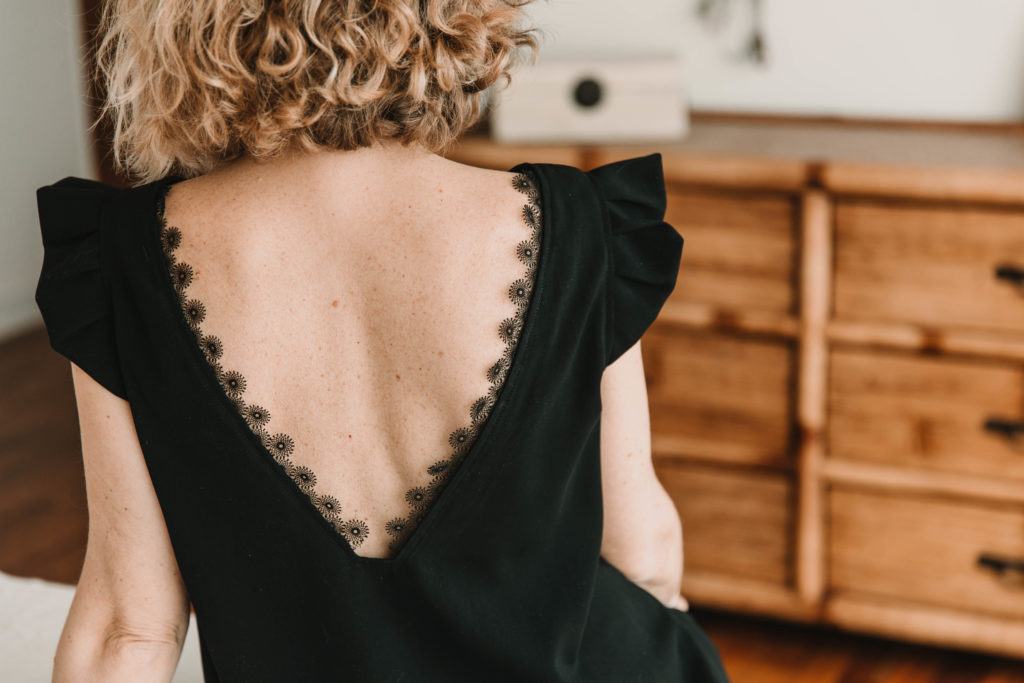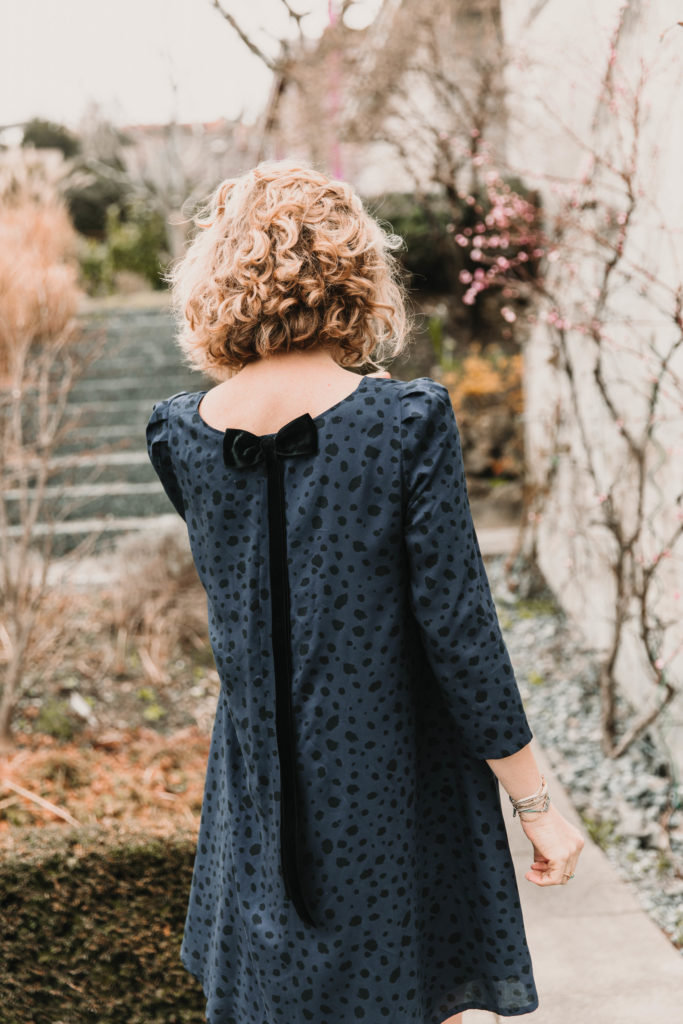 Some clarification about the deep V-neckline because I know that some of you expressed their concerns about that back neckline: That's true that, depending on your body shape, a classic bra may show.
Be assured that I take time to cover all the issues when I design a pattern. So I devoted a lengthy paragraph to that question in the instructions where I offer a handful of solutions (I won't go into details again here).   It will be up to you to choose the most appropriate!
You can add a box pleat at the back,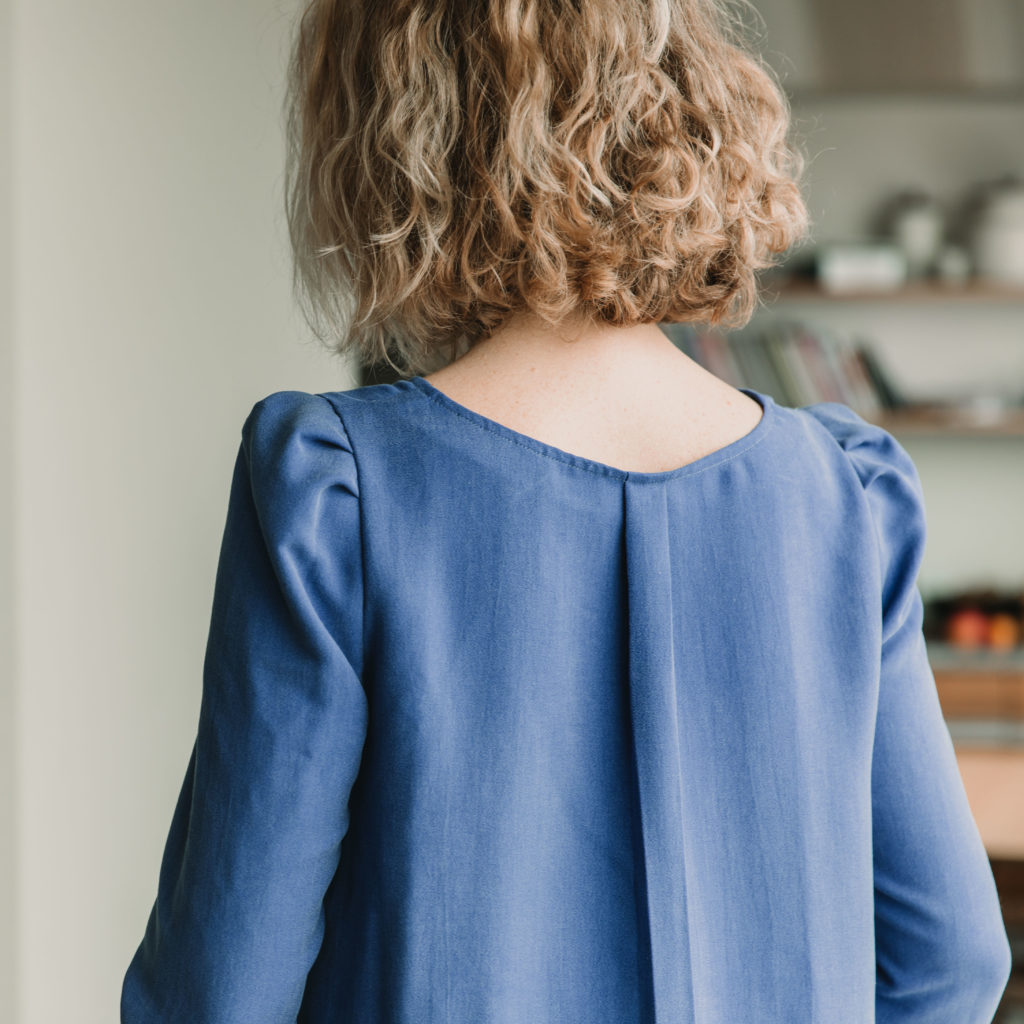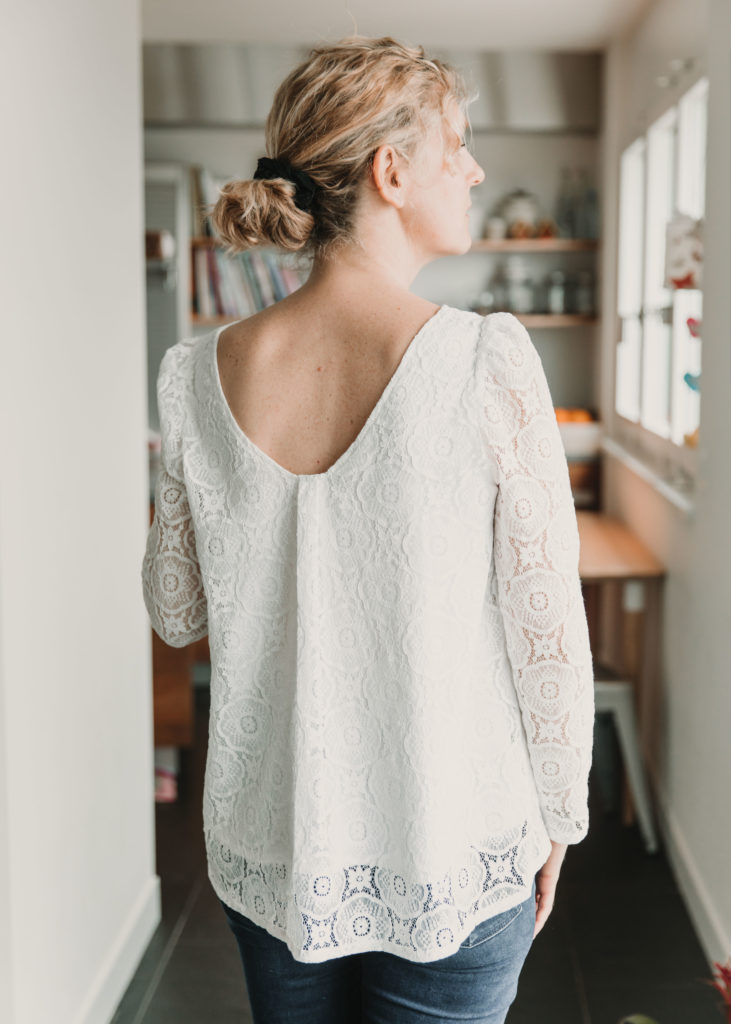 or on the sexy deep V neckline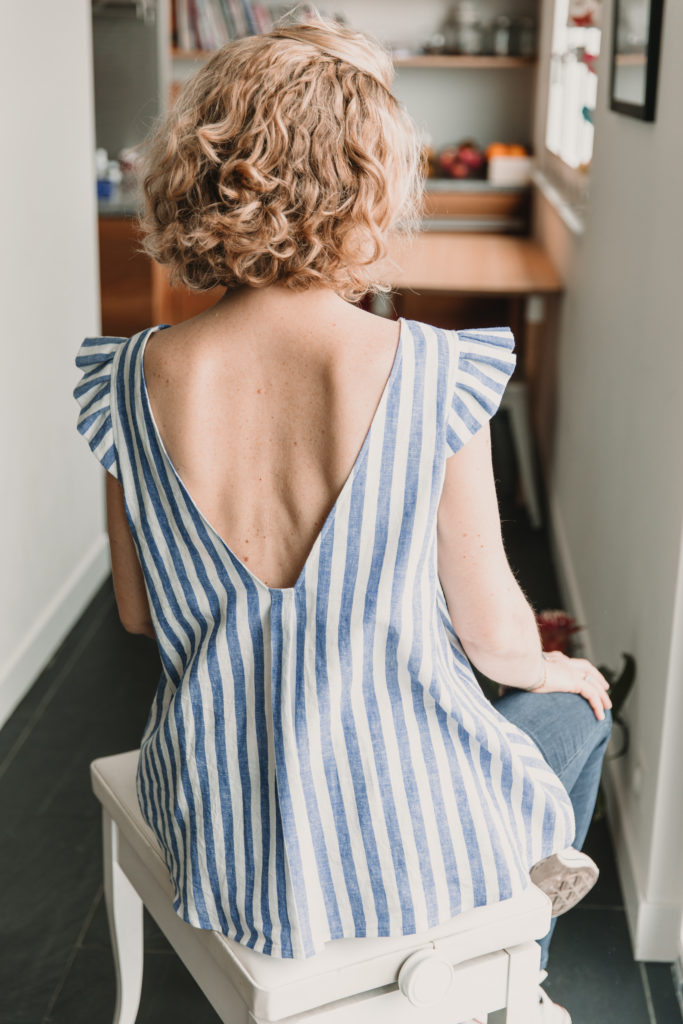 Or not box pleat…
But in my opinion, the prominent feature in this pattern is its sleeves…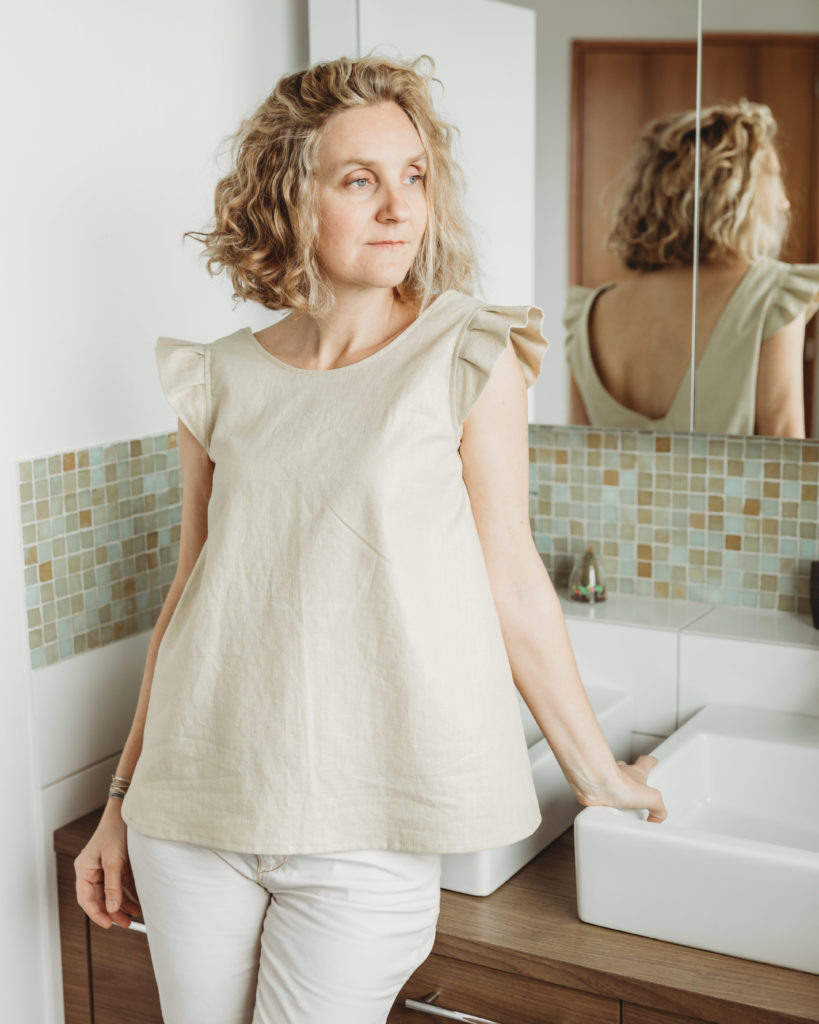 3/4 or long pleated sleeves ("darted" sleeves)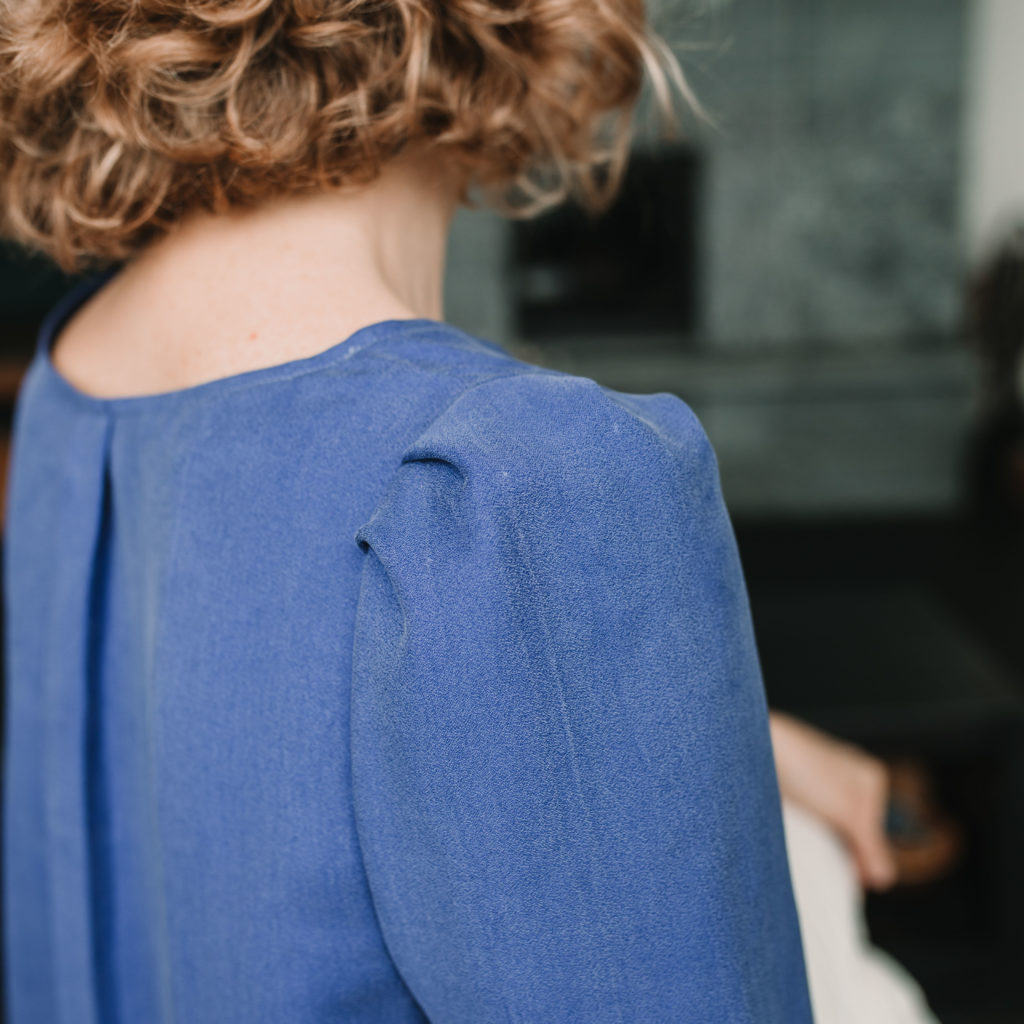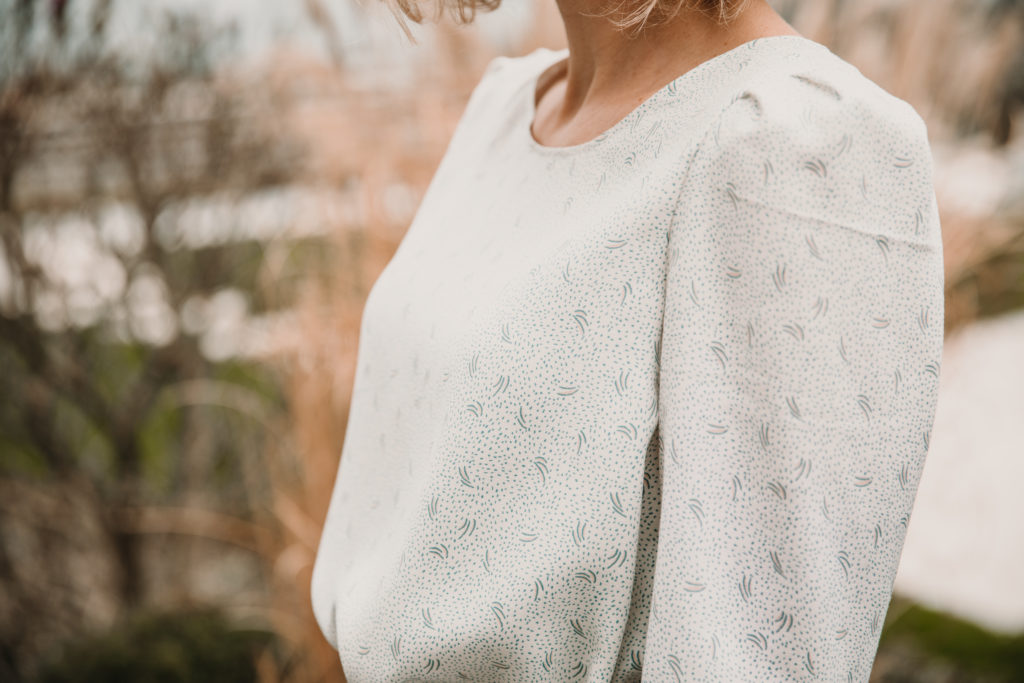 And if you don't like the pleats on the ¾ and long sleeves, I've included instructions on how to gather instead of pleating them.
You may wonder how these sleeve heads can retain their shape? It's just a shoulder pad that you will create yourself out of lightweight but stiff fabric and it will help the sleeve head to keep a nice round shape (instructions are also included in the pattern!)
Two types of finishing are proposed: the first is simply sewing a facing around the neckline…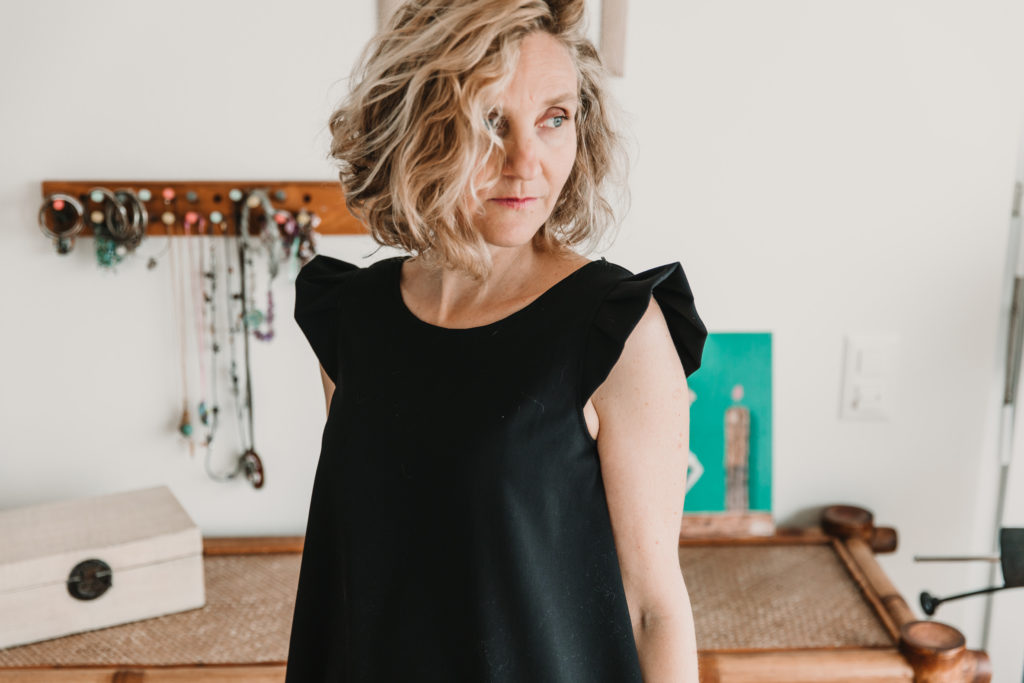 the other is lining the garment…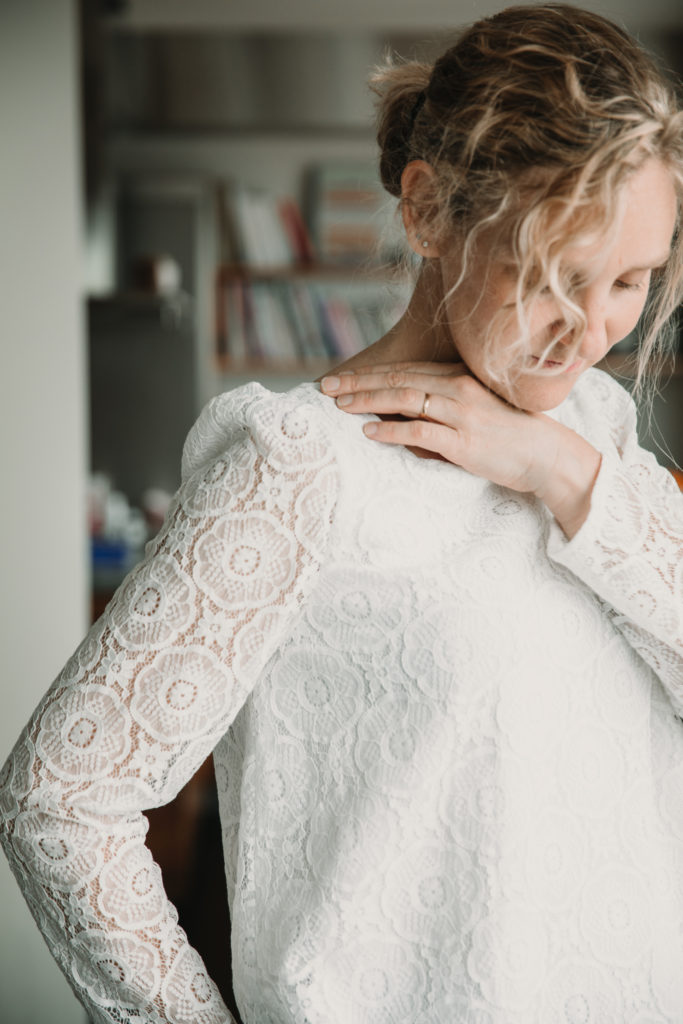 The blouse is slightly high-low i.e. the back is a bit longer than the front. People generously endowed at the front may find that this asymmetry is more pronounced. If it's bothering you, you will have to cut the back to have its length equal to the front's…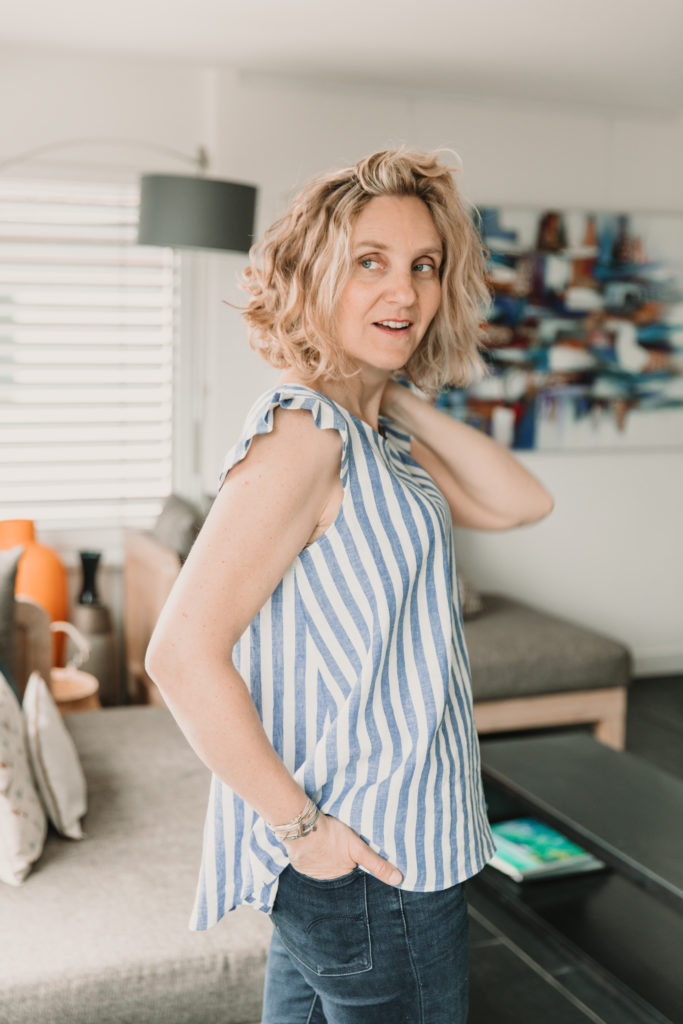 Small bra strap holders have been included in this pattern, just in case the garment slips from your shoulders (concerns the V necklines). It's so easy to sew: you will need a little piece of ribbon and snaps. And it works a charm!!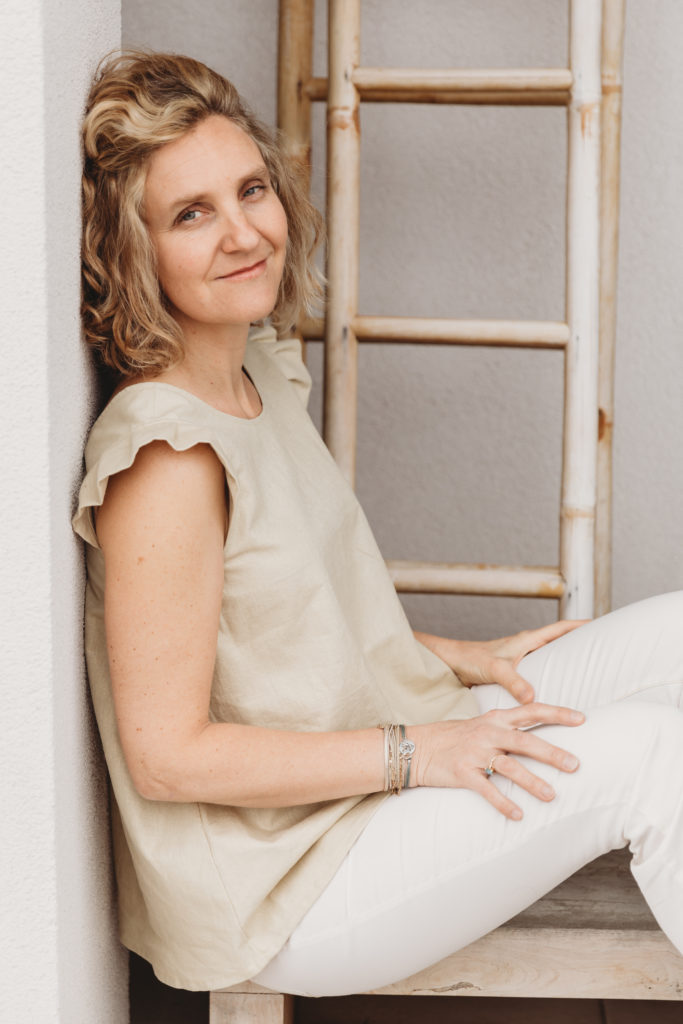 Origins of the fabrics used in my Yzés :
The royal blue Tencel "lapis" was generously gifted by Metermeter, this fabric has the perfect thickness and drape for this pattern,
Viscose crepe "Dune-off-white", Atelier Brunette, (lining necessary),
Large flowers white lace, Pretty Mercerie, (lining necessary),
Golden linen (not on sale anymore), France Duval-Stalla,
Blue and white wide stripe cotton/linen, France Duval Stalla,
Thick black crepe, Mondial Tissu,
Navy blue large dot viscose, Mondial Tissu, (lining necessary),
Navy/blue animal print viscose, a small shop in Shenzhen, China, (lining necessary).
Well, I think that I'm done!  I do hope that you will be delighted by this new pattern and that all of these pictures will inspire you.
A big THANK YOU to my photograph wo did a great job!
Hoping for better days to enjoy your future Yzés, take care of you and your family.
Love,
Karine